Quimby Melton: Focus on privacy-first data disruptions (#409)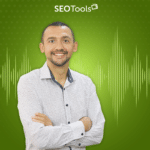 Welcome to my podcast, where we delve into the latest trends and tips. Today, a special guest Quimby Melton is joining us to discuss the importance of data privacy and how to safeguard your personal information online.
Here are some key points we'll be discussing with Quimby:
– The growing trend of privacy-first data disruptions and why they are important
– Tips for protecting your personal information online, including how to secure your passwords, use privacy-focused browsers, and opt-out of data tracking
– The expert opinion on the future of data privacy and how to stay ahead of the curve
– Trends to watch in the world of data privacy, including the rise of decentralized technologies and the growing importance of data privacy laws
Join us as we explore these topics and more with Quimby Melton, a leading expert in data privacy and security.
Watch or listen to the entire episode to know a lot more.
Learn more from our SEO course – https://unmiss.com/
Learn more about Quimby Melton on the following resources:
Website:
https://confection.io/
Linkedin:
https://www.linkedin.com/in/oqmelton/
Twitter:
https://twitter.com/oqm4
I'm Anatolii Ulitovskyi.
My sole purpose is to help you get more relevant traffic ASAP.
Let me start growing your business with a FREE analysis.