Enhance your SEO strategy and find relevant keyword suggestions with our keyword generator tool. This tool also allows you to quickly cross-reference any keyword in any order and search for up-to-date keyword combinations to enhance your site's search visibility.
To start, enter your primary keywords below, along with any additional keywords such as local intent keywords (near me, book, order), sales-oriented keywords (price, cost), and more. How to use the keyword generator:
Type your primary keywords into the first search block (using the top search block on the left)
Type all other related words into the other additional blocks (where applicable)
Press the "Get keywords" button
You can also click the "Click to see how it works" link to see an example
How to generate a specific phrase:
If you want to add one word into a specific phrase, e.g., "engine overhaul", add an asterisk symbol "*" in front of the phrase and type it into the primary keywords block (e.g. "*engine overhaul").
Fill words into the blocks "Properties, types, brands and location".
Phrases from the block "Properties, types and location" will be generated instead of the asterisk *.
Types of keywords
When conducting keyword research, its important to consider the different types of keywords you should be targeting. You'll want to use different types of SEO keywords to target different audiences and different stages of the sales funnel.
For example, the primary keyword you target in a blog post (top of funnel content) will be much different than the primary keyword you use in a case study (mid-funnel content).
By differentiating your keyword optimization based on persona and stage of the buying journey, you're able to more effectively reach a broader scope of potential visitors.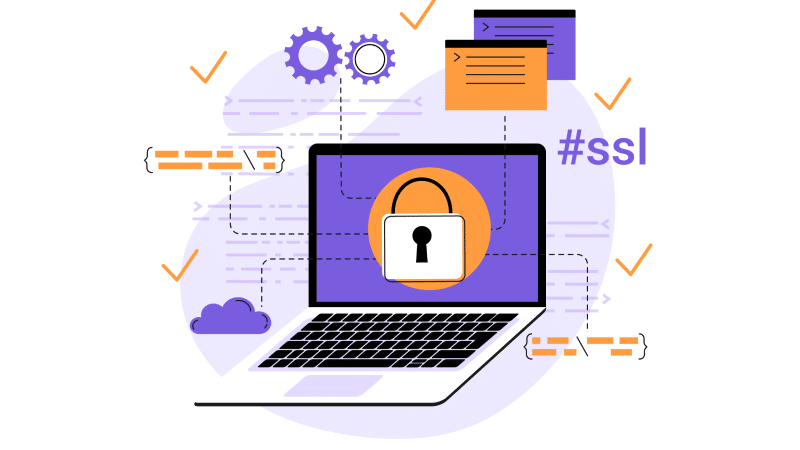 Here are examples of different types of keywords you'll want to incorporate into your keyword research:
Main words are the primary keywords your ideal customer will use to find your product or service. These keywords most closely describe your business and are likely the terms you want to rank higher on the search engine results pages for.
If you're a flower shop, a few main words you'd want to target might include flower shop, flower shops, florist, etc.
Local search words are terms that provide local intent. They are terms people in your local area use to find your business and factor into your local search strategy.
We know Google delivers results based on the proximity of the business to the searcher, so you'll want to incorporate local search words into your keyword research to ensure your business is appearing to nearby searchers.
Using the previous flower shop example, a few local search words you may want to target include flower shops near me, florist near me, flower shop in [city name], buy flowers, flower delivery [city name], and so on.
Properties, types and specs are words that can be used to describe the type of product or service you sell. For example, if you're a flower shop, you likely sell an assortment of diverse types of flowers.
You may want to target terms such as pink flowers, roses, Valentine's day flowers, and more terms that a searcher would use to find a specific type of flower from your business.
Brands and trademarks are words consumers use when they are aware of your product or service and want to find a specific brand.
For example, if a consumer is looking for a new car, they likely will search for a brand name such as Kia, Honda, Toyota, etc. in the keyword phrase they use to find a car dealership. They may type "Kia car dealership near me".
Selling words are powerful terms designed to spark emotion and drive customers to perform a desired action. These words may be descriptive adjectives or compelling verbs.
In the case of a car dealership, example terms may include price, cost, monthly payment, and more. These terms are often associated with bottom-of-the-funnel customers who are ready to take action.
Other words can be any other type of word customers might use when evaluating or seeking more information about your business. For example, a customer seeking a new car might use the term "reviews" to find out how reputable a nearby car dealership is.
Why use the keyword generator
Without leveraging technology, keyword research can be a time consuming task that requires extensive research.
Our keyword research tool eliminates this burden by providing you a comprehensive list of relevant keywords and phrases to use in your content to improve your discoverability on the search engine results pages.
Additionally, our keyword generator is user-friendly, whether you're a beginner or an expert in keyword research. And, unlike other keyword research tools, our keyword generator is free to use.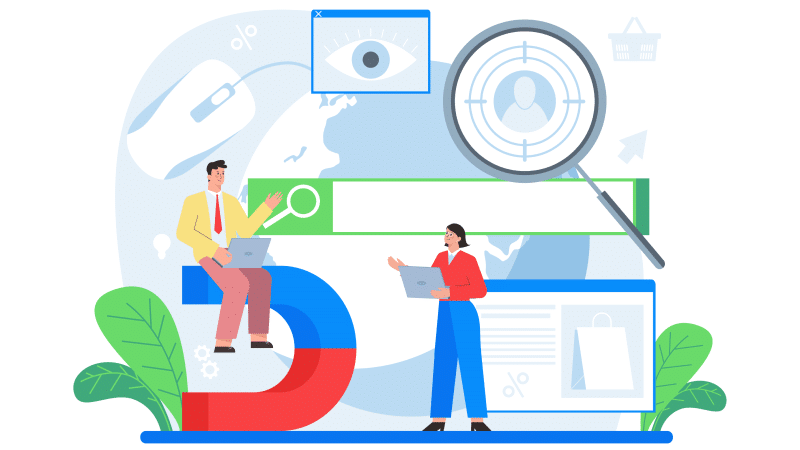 Select the primary keyword you'd like to target, along with any additional local search words, specific brands, properties/types/specs, selling words, or any other words to return a plethora of search terms.
Terms are delivered in different combinations as well to provide more inspiration.
For example, say you're a pet supply store looking to drive more traffic to your cat food landing page. You may want to put the following terms in our user-friendly keyword generator to source inspiration: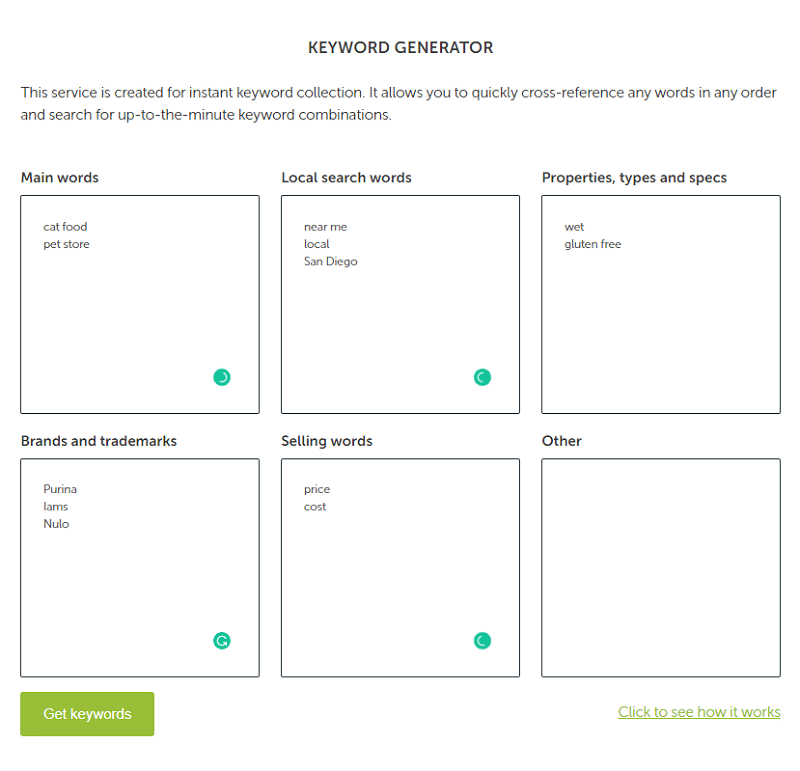 Here is a list of the terms our keyword generator tool came up with.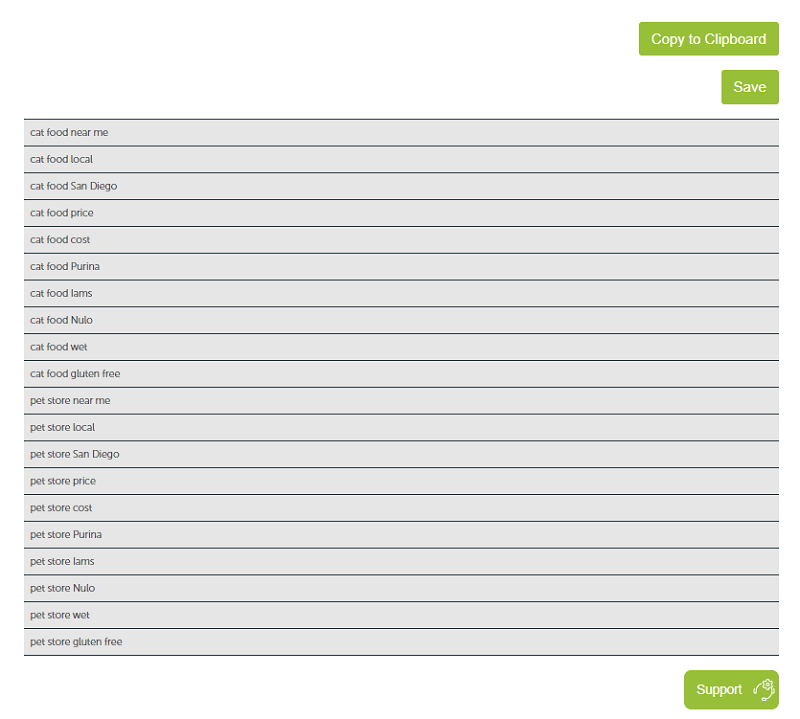 As you can see in the above results, our keyword generator tool delivered over 15+ keyword combinations in a matter of seconds. You can copy this list to a clipboard or save it as a .txt file.
By creating an extensive list of keywords, you can better craft a strategic content marketing plan that places you in the top search results for terms your potential customers are using or questions they're asking.
It may even spark inspiration for new blog posts, product pages, and other content resources to create. Spend more time on the actual creation of content rather than researching keywords to write about.
Keyword research also ensures you don't target the same exact keyword multiple times, which can lead to keyword cannibalization.
Keyword cannibalization can cause major implications for your content, the top issue being different pages of your content are essentially competing against each other, leading to lower search rankings.
By using this tool, you'll effectively target customers at all levels of the sales funnel while providing fresh and relevant search terms to keep your content at the forefront of search results. Give it a try and see what search terms will enhance your visibility.