63 Top Content Creation Tools Marketers Can't Live Without
"Content is king" is a famous quote by Bill Gates from 1996, which is more relevant today than ever.
High-quality content is the foundation of organic reach in SEO, social media, and content marketing.
Even paid marketing requires good content to attract customers who have plenty of options to spend their money on.
We can no longer get away with lazy content creation as users and platforms demand quality.
I'm Anatolii Ulitovskyi.
My sole purpose is to help you get more relevant traffic ASAP.
Let me start growing your business with a FREE analysis.
To create great content, we need to find unique and fresh ideas, which can be challenging as generic topics are overwhelming and overused. For instance, writing about weight loss in a crowded market is a tough job. Therefore, it's essential to consider whether your context is game-changing, innovative, unique, or just more of the same content.
To find fresh and unique content ideas, we can search for the following:
– outdated information
– lack of quality content
– trending topics
– breaking news
– often ignored subjects.
However, analyzing a million results manually is not practical, so we can use various tools to find such topics quickly.
While many tools are available to help create content, we should remember that our two hands and personal experience are the most valuable tools. Other tools can only help us improve the quality and speed of our content creation.
I get high engagement on LinkedIn, YouTube, live streams, SEO, and other formats because of having tools that can help me to get a million views, enormous traffic, and sales. Let's dive into it.
The Versatility of AI Tools
Artificial Intelligence (AI) tools are incredibly useful nowadays, particularly for discovering evergreen topics that consistently attract traffic.
I prefer to utilize these tools initially since you can inquire about anything without learning how they operate.
It's straightforward. Allow me to share my list of AI tools.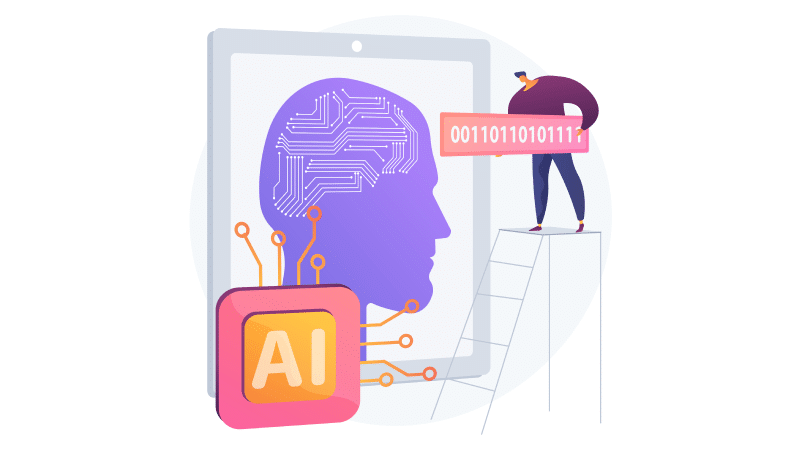 1.
ChatGPT
This particular tool utilizes data from 2021, and while newer updates may provide more resources for obtaining fresh insights, they can still assist in generating ideas.
As an illustration, I requested a list of content creation tools on ChatGPT and received the complete inventory.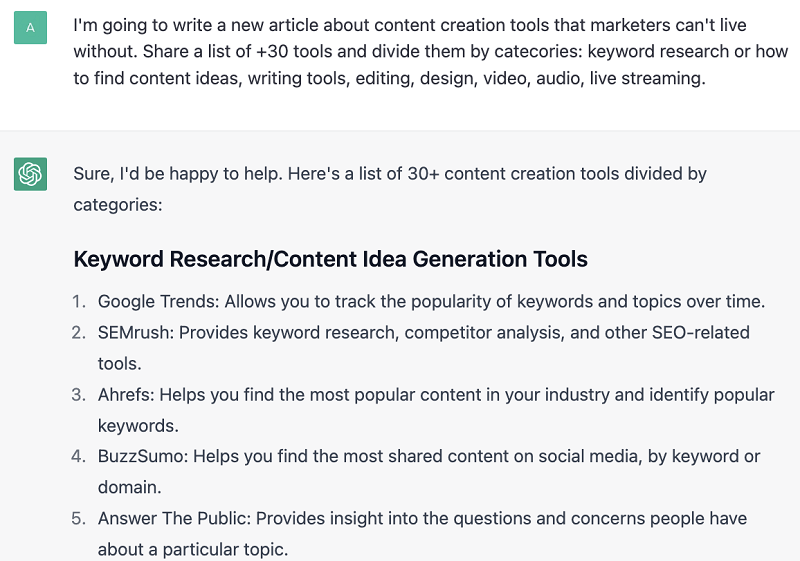 I haven't included all the screenshots from ChatGPT since you can easily ask the same questions and obtain them. Nevertheless, I find these insights valuable, and they, along with other tools, comprise my list.
I use most of these tools myself, while my team utilizes the remaining tools for editing and designing content. Many thanks to ChatGPT for providing these ideas.
I'll modify this list based on my experience and preferences. Although the free version can sometimes be unreliable, I prefer a paid version that costs $20 per month.
Numerous AI tools extract data from ChatGPT but offer additional features and user-friendly interfaces:
2. Jasper is the second most popular tool after OpenAI and has a price of $82, along with a free trial.
3. Copy.ai has a limited free version and costs $36 monthly.
4. Rytr.me is another great tool that I've used for an extended period due to its low price of $29 monthly and user-friendly features, with a free version also available.
5. Marketmuse has a standard price of $149, but there is a free version. If you're uncomfortable sharing your requests' details, these alternatives may be a better fit for you.
While AI tools can be helpful, they do have some limitations, such as utilizing data that may be outdated, only providing a limited set of metrics, and lacking essential data like volume, competition, and traffic.
As a result, keyword research tools can provide more comprehensive data and insights.
How to get more data?
Keyword research tools are valuable since they indicate what we can expect to achieve after creating content.
After all, if the generated traffic fails to convert into sales, it's essentially useless.
Additionally, it's crucial to gauge the competitiveness of particular topics to avoid creating content that fails to produce desired results.
6. Ahrefs is an excellent SEO tool that I highly recommend. I adore its content explorer feature, which enables me to filter out billions of pages. That's why I'm sharing this article – I discovered it using this tool. You can find more reviews and other tools by searching on Google. While all of these tools are excellent, I solely use OpenAI since all the buttons and features on these tools are compatible with OpenAI.

In the screenshot, you can see that I employed three filters: "in title," "page traffic value from 1K," and "referring domains: up to 10."
You are welcome to use additional filters to narrow down the results, but always make sure to check manually to ensure that you can create something better.
Although the target article was published in September 2021, paid marketers are still willing to pay $1,700 for comparable traffic.
Since many changes have occurred over the past year, I can expand the list and include more tools that offer more value to users. Ahrefs is a costly tool, with a monthly price starting at $99.
Here is a list of Ahrefs alternatives:
7. Similarweb analyzes traffic from all sources and costs $167 a month.
8. Semrush is more popular than Ahrefs and provides many more features for analyzing website traffic. However, both tools are expensive for small projects or freelancers starting from scratch. Semrush's price starts at $119.95 per month, and be prepared to pay more for extended access and add-ons.
9. Moz has some unique features for selecting priorities that are critical in today's content creation landscape. The monthly price starts at $99.
10. Ubersuggest is significantly less expensive than Ahrefs or Semrush, at only $29 per month.
11. Serpstat is an excellent tool for small projects, priced at $55.
12. Seranking provides a comprehensive technical audit and keyword research for $39.20 per month.
13. Majestic provides the critical trust parameter to fulfill Google's E-A-T (Experience, Authority, Trustworthiness) requirements. Prices start at $50 per month.
To find more reviews and comparison content on Ahrefs alternatives, search on Google.
How can we discover trending topics?
I enjoy creating content on trends because they tend to generate higher engagement rates.
While trends may be short-lived, their potential to create buzz is often much greater than that of evergreen content over the long term.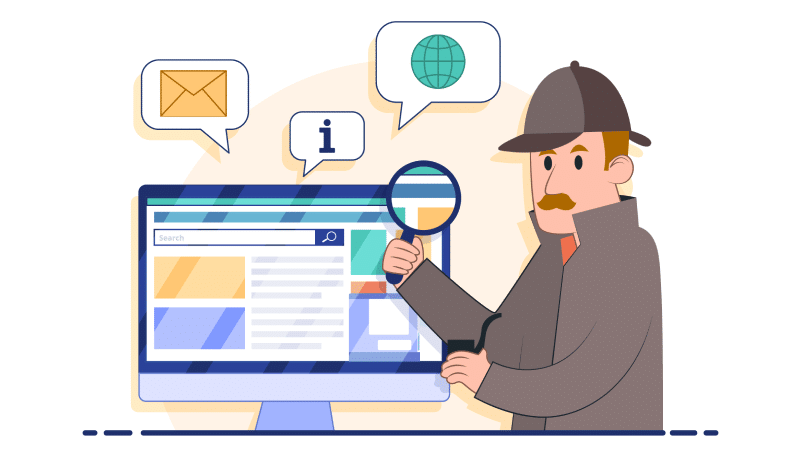 14. Google Trends is one of my favorite tools due to its free and excellent features for discovering press release ideas on hot and trending topics. Additionally, this tool can help you find content ideas for SEO, news, social media, and more by merely experimenting with various keywords. For instance, I crafted a press release on the peak popularity of SEO, generating over 8.3 billion searches per month, exceeding the world's population. With its straightforward graphical representation, Google Trends illustrates all of this data effectively.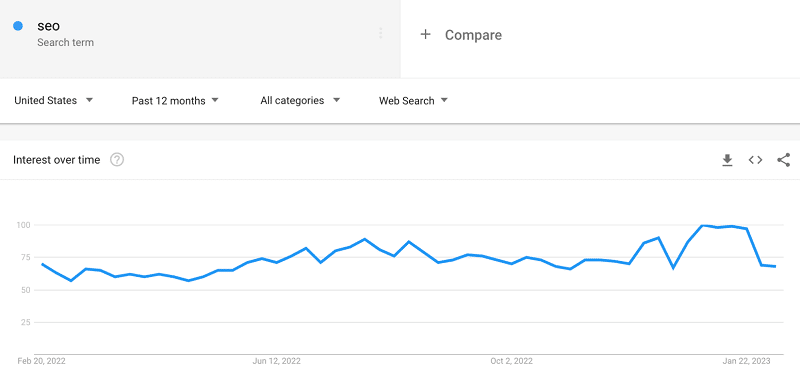 You can scroll down to find more relevant ideas and also see how the search percentage has increased in a specific country or region. There are several alternatives to Google Trends, including: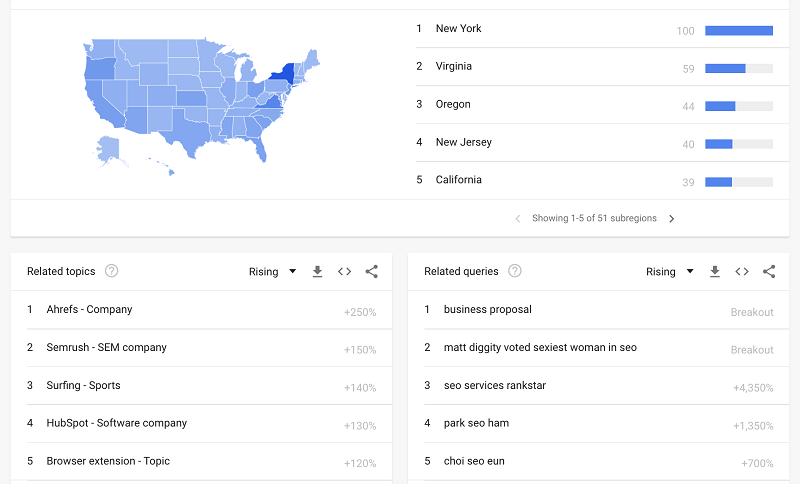 15. Explodingtopics, which aims to predict hot trends before they become trends. For instance, I can predict that a new version of the iPhone will be on people's minds in September. If you're like me, use this tool to discover more trending topics for $39 per month.
16. Treendly offers a free option that is excellent for small projects, while the full version costs $99 yearly or less than Explodingtopics.
17. Meetglimpse provides a list of popular categories and companies for a monthly fee of $29, with a free version available.
18. Insiderintelligence helps traders and investors to analyze existing reports and forecast the potential income throughout different niches. There is no listed price, but you can submit a quote to obtain more information.
19. Buzzsumo is a popular paid tool for generating content ideas, with a monthly cost starting at $119.
Other multifunctional tools, such as Ahrefs and Semrush, also feature trending topics.
Tools for Q&A
These tools provide a list of questions that users ask.
The reason we create educational content is, of course, to answer these questions.
20. Answerthepublic is another excellent tool that provides users with questions and other related keyword ideas that people are searching for. To obtain results, input your keyword, country, and language. I prefer to analyze results in a visualization on a data version. Although the free version is limited, the price for this tool starts at $9 per month.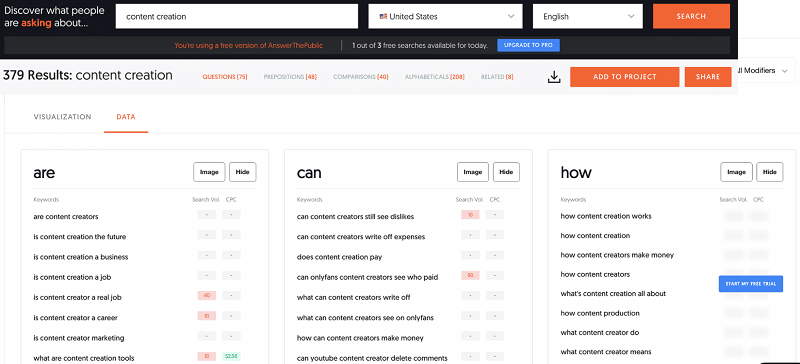 21. Alsoasked
This fantastic tool enables users to break down keywords into subtopics. Instead of writing about everything, Google often recommends focusing on specific areas.
By creating a content plan and structuring data according to specific requirements, I can save time. With the paid version, users can conduct four times deeper searches to discover almost all customer questions.
I highly recommend it for developing pillar topics for your content plan. The monthly price for the paid version is $15, and a free version is also available.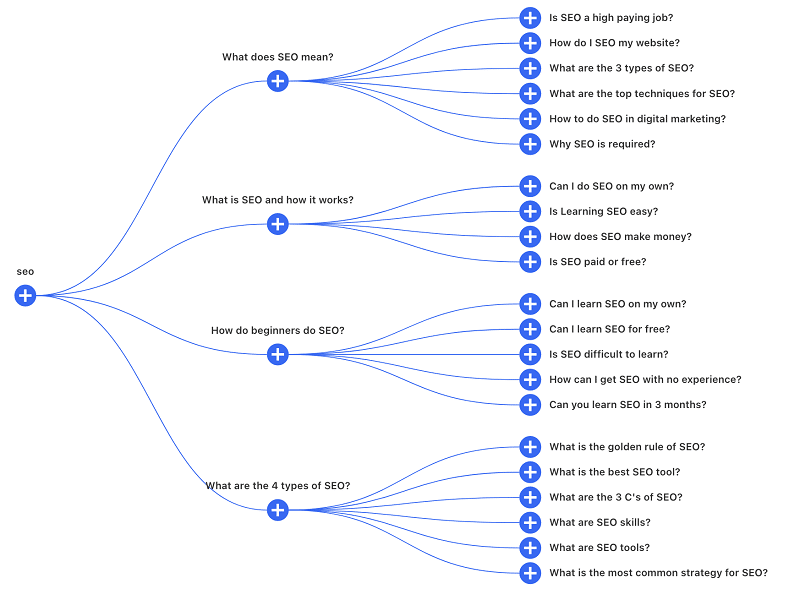 Reddit and Quora are examples of forums or Q&A websites that people visit when they cannot find answers on Google. One advantage of this format is that users can obtain answers to their inquiries.
You can repurpose this format to other types of content, such as blog or social media posts, podcast episodes, webinars, etc.
However, it's essential not to copy existing content. Rather, aim to add more value and provide greater detail.
How to Discover More Ideas?
Although tools are useful, many excellent ideas are not listed on them.
By being active on social media and subscribing to numerous blogs, publications, and forums, you can uncover a plethora of untapped opportunities.
23. Feedly
I often don't rely on typical keyword or topic research tools to generate content ideas; instead, I use Feedly to discover most of my ideas.
I have subscribed to more than 100 blogs and popular publications covering various topics, such as SEO, digital marketing, AI, trading, inspiration, recruitment, innovation, and more.
With so much content coming in, I don't have enough time to consume everything, so I focus on reading headlines to identify valuable content.
Most bloggers share excellent content without aggressive promotion across multiple platforms, instead focusing only on the channels that work best for them. I believe this is the right approach.
I combine the content ideas I discover with my personal experiences and share them on other media platforms that they may overlook. It's as simple as that.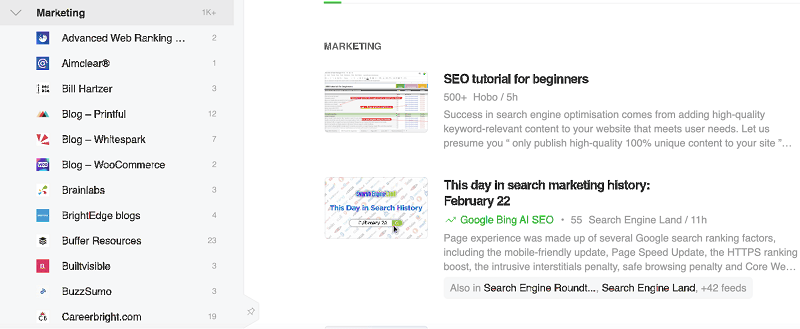 Suppose you come across a great Forbes article in your niche that they've only shared on social media. In that case, you can repurpose the content in a different format and cater to your audience.
The tool is available for a monthly price of $6, with a free version also offered.
24. Social media platforms personalize feeds according to your interests, providing the latest insights. Repurposing content from popular posts with high engagement is an excellent way to create similar content. Rather than stealing or rewriting it, use the ideas and combine them with your personal experience.
25. Cooperate with salespeople
As a marketer, you should collaborate with salespeople who possess direct customer data. Learn their pain points, interests, and desires to create educational content that addresses their concerns. The era of lazy marketers is long gone.
Top marketers talk to their customers and collect data on everything, including big brands such as Google, which listens to customer feedback and responds to their queries on social media platforms like Twitter and Reddit.
Writing Tools
To write valuable and engaging texts, simplicity, uniqueness, non-boredom, and attractiveness are critical.
Although ChatGPT and other AI tools can assist with writing, only experienced authors can produce excellent content.
Here are some of the tools I personally use to create great content:
26. Grammarly
This excellent tool is available to check your text on various platforms such as browsers, Google Docs, and Microsoft Word. I prefer to write directly on the Grammarly admin panel to get additional insights on the right side, which is very helpful.
However, it does not have a sharing model with other team members, and you cannot add pictures on their playground. Therefore, if you write directly on Google Docs, you can avoid these issues.
The premium version costs $11.66 per month if you pay for a year and a free version is also available.
27. Google Docs
I switched to Google Docs from Microsoft Word because of its collaborative features that enable sharing with other team members such as editors, designers, content managers, and web developers.
Additionally, it has a variety of excellent editing tools and keeps track of the revision history.
28. Hemingwayapp
This tool is highly regarded by many writers because of its simplicity, value, and the fact that it is free. The "Readability" feature is particularly helpful.
A lower readability score, below 9, is actually good. Scores from 4 to 6 are considered excellent, but it's important not to get too caught up in the score, as it is just an estimation.
29. Headline Quality Calculator
This tool provides helpful tips and best practices to create headlines that capture the attention of potential readers. The importance of headlines cannot be overstated, as they often determine whether someone will click and read the full content.
With many choices available, a strong headline is essential to stand out. The tool is free and provides tips to improve headline scores.
30. AI tools
AI is a prevalent technology in today's world, and I suggest using these tools to generate content ideas. However, the real value lies in generating high-quality text with these tools.
To achieve the best results, make sure to play around with your requests, provide specific details, and don't settle for the first version.
How to draw outstanding designs?
When it comes to creating content, design plays a vital role in attracting users.
Images, photos, and other multimedia elements can enhance the quality of your content.
Whether you're a beginner or an expert, there are several tools available to help you create a visually appealing design.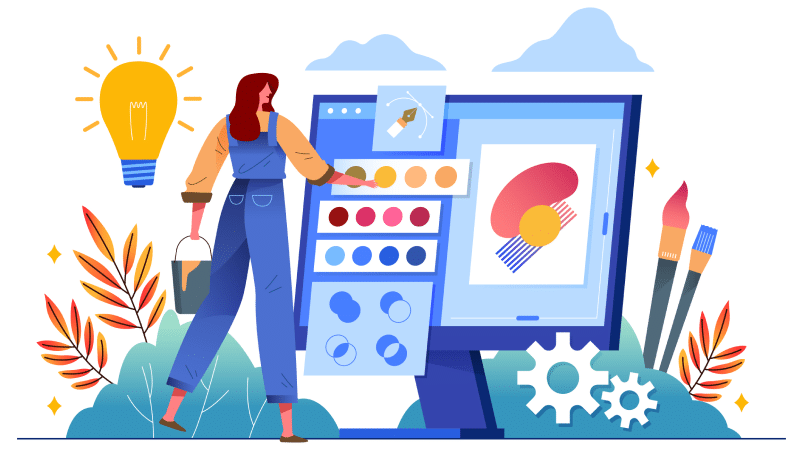 31. Canva
Canva is a popular design tool that offers a wide range of templates and assets for creating professional-looking graphics, from social media posts to business cards.
What I love about Canva is its simplicity and the fact that I can create stunning designs without any design skills. Although I work with designers, I use Canva to speed up the process of creating visuals.
While the basic version of Canva is free, the pro version costs $120 per year. If you're interested in other design tools, here are some options to consider:
32. Adobe Creative Cloud: This is a great bundle of creative tools that includes Photoshop, Illustrator, and InDesign among others. The monthly price starts at $55 if you opt for a yearly payment plan, while some features can be accessed for as low as $20 per month.
33. Vistacreate is a platform that offers tools to design social media graphics, videos, and animated posts. It has a free option, and the regular price is $10 monthly.
34. Piktochart enables you to produce eye-catching infographics, reports, and other visual content. While there are some free limits, the monthly fee for the full version is $14.
35. Visme: A design tool that lets you create visual content for presentations, reports, and social media. The price is $12.25 with a free version.
A picture is worth a thousand words. That is why drawing them helps to improve the quality and retain the audience longer. But the following format is even more critical.
How to design videos?
You don't have to compete with famous personalities like MrBeast to grab attention.
The context is more crucial than design. If you have the resources, then investing in video design would be more beneficial.
As mentioned earlier, Canva and Adobe have great design features, and they can also assist with video design.
Here is a list of other popular alternatives.
36. Final Cut Pro X: Another popular video editing software designed for Mac users. The full price is $300 with a free version.
37. DaVinci Resolve: A comprehensive video editing and color grading software with a free version that offers the same features as the paid version. The full version costs $295, with a free version.
38. Adobe After Effects: A powerful visual effects and motion graphics software often used for creating animations and special effects.
39. Blender: A 3D modeling and animation software with video editing capabilities.
40. Camtasia: A screen recording and video editing software helpful in creating tutorials and instructional videos. The price is $300, with renews for the low cost of $50.00/year.
41. Filmora: A user-friendly video editing software that offers basic features for creating simple videos. The price starts from $50 yearly.
42. iMovie: A free video editing software with a simple and intuitive interface for Mac users.
43. HitFilm Express: A free video editing and visual effects software with advanced compositing and particle simulation features. The price starts from $8 monthly with a free version.
44. Snapchat, TikTok, and Instagram have video editing tools inside platforms. My son makes magic with these tools without relying on more professional options.
How to edit audio?
Editing audio is a critical step in producing high-quality audio content, especially for podcasts that are gaining popularity due to their convenience.
With a podcast, listeners can consume valuable content while doing something else, such as exercising or walking their dogs.
I also create my own podcast, featuring over 400 great marketers and entrepreneurs on the UNmiss podcast.
There are several tools available for editing audio, including:
45. Pro Tools: A widely used digital audio workstation (DAW) used by professionals in the music and audio industries. It offers advanced features for recording, editing, and mixing audio. The price starts from $10 monthly.
46 Logic Pro: An Apple-exclusive DAW with a wide range of music production, post-production, and sound design features. The price is $200 with a free trial.
47. Ableton Live: A popular DAW for electronic music production and live performance, with a unique session view for non-linear composition and live triggering of clips and effects.
48. FL Studio: A versatile DAW with features for music production, sound design, and live performance. It is vital for electronic music production. The price starts from $99.
49. Audacity: A free, open-source audio editor with basic recording, editing, and mixing features, widely used for simple audio projects and podcast production.
50. GarageBand: A free DAW for Mac users with a simple and intuitive interface, suitable for beginners and hobbyists.
51. Cubase: A comprehensive DAW with advanced features for recording, editing, and mixing audio used by professionals in the music and audio industries. The full version costs $580 with a free trial.
52. Studio One: A DAW with an intuitive and customizable interface, with features for music production, sound design, and mixing. The monthly price starts from $14.95.
53. Reaper: A lightweight and affordable DAW with advanced audio production, editing, and mixing features. The discounted license is $60; the commercial is $225.
54. Waves Plugins: A popular set of audio plugins used for processing and enhancing audio in mixing and mastering. The price for one pack of features starts from $30.
How to live stream?
The last format is a live stream that I often overuse because of killing two birds with one stone: getting engagement with broadcasts and converting to an audio format for my podcast.
Most content creators do it weekly, but I prefer daily a few times on LinkedIn, YouTube, Twitter, and Facebook.
Find your best balance of live streams with the following tools:
55. OBS Studio: A free and open-source live streaming and recording software with features for video and audio mixing, scene composition, and more.
56. Streamlabs OBS: A free, user-friendly, and feature-packed version of OBS Studio, with built-in widgets and integrations for alerts, donations, chat, and more.
57. XSplit: A live streaming and recording software with a user-friendly interface and advanced features for scene composition, video and audio mixing, and more. The price starts from $60.
58. Wirecast: A professional-grade live streaming software with advanced features for a multi-camera production, live switching, and real-time encoding. The price starts from $599.
59. Restream: A platform that allows you to stream to multiple destinations (e.g., YouTube, Twitch, Facebook, etc.) simultaneously, with a unified chat and analytics dashboard. The price starts from $16 with a free version.
60. Vimeo Livestream: A live streaming platform with professional-grade features for a multi-camera production, live switching, graphics, and more. The price starts from $65.
61. Zoom: A popular video conferencing platform with features for live streaming, screen sharing, and virtual backgrounds, suitable for webinars and virtual events. The price starts from $150 with a free version.
62. Twitch: A live streaming platform mainly focused on gaming, with features for chat, emotes, and monetization through subscriptions, donations, and ads.
63. Streamyard: A live streaming platform with a user-friendly and straightforward design that connects to social media and allows special effects in the browser. The price starts from $20 with a free version.
Conclusion
Focus on your strengths when creating content. All formats, including texts, videos, live streams, and audio, can be effective. Consistency is key to improving quality and building confidence.
To take your content to the next level, research and choose the tools that work best for you by reading reviews and experimenting with different options.