Our free keyword clusterizator tool provides a quick way to identify and group related keywords, saving you valuable time. Simply upload your list of keywords to identify key topics and optimal content clusters.
Keyword Clusterizator recognizes files from popular keyword research tools, such as Google Keyword Planner, Ubersuggest, Ahrefs, Semrush, Moz, Majestic, Serpstat, etc.
Please note, Keyword Clusterizator doesn't recognize all file formats when the above resources have changed theirs. There are two options for fixing this:
resave the file as a different format, e.g. *.csv or *.xlsx
replace unfamiliar symbols
simply copy the data from the keyword- and volume columns and insert it into the search field below.
Please note: VPNs (Virtual Private Network) and some Google Chrome apps might influence Keyword Clusterizator's performance. If you receive errors, turn off these apps or do grouping by using an incognito browser.
Advantages of keyword clustering
Keyword clusters can help elevate your SEO strategy and strengthen your content.
As Google continues to direct its focus towards natural language processing and gaining a deeper understanding of if on-page content is relevant to the end-user, the importance of keyword optimization grows.
It will no longer suffice to evenly spread your primary keyword throughout your content and think that Google will ignore spammy SEO techniques.
With every major core algorithm update, Google gets smarter and closer to understanding a searcher's intent.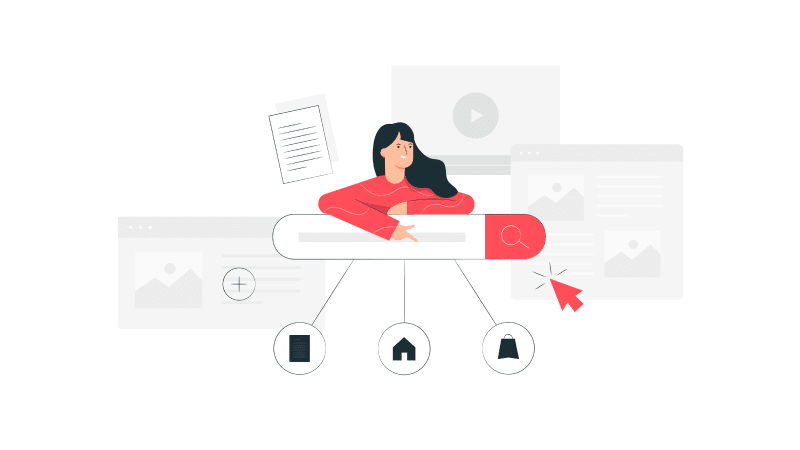 SEO professionals often make the mistake of only optimizing for one keyword in a piece of content. However, why optimize for just one keyword?
That's where keyword clusters come in. Keyword clusters are a group of related keywords that have similar search intent.
For example, "pet door", "dog door", and "sliding glass pet door" could all be used by a searcher interchangeably and all these terms represent searchers who are looking for a dog door.
If your business is only trying to rank for the term "dog door" but you sell sliding glass pet doors as well, you're missing out on potential buyers and limiting your reach.
That's why it's crucial to use keyword clusters to improve content creation, rankings in the search engine results pages, and opportunities for conversions.
In the past, keyword clustering meant hours and hours of keyword research. You'd have to determine your primary keyword and then think of all the variations, long-tail phrases, questions, and subtopics searchers are using for that keyword.
You'd likely have to turn to your competition to see what they were already doing, continuously update a spreadsheet of keyword phrases, and prioritize what to tackle first.
The Keyword Clusterizator eliminates the burden of finding what subtopics relate to your primary keyword and saves you time, using its innovative manual Clusterizator function.
Supports separate keyword types – Geotagging and sales keywords
Easy save and upload of projects
Filter in / out required words
Additionally, Keyword Clusterizator also helps you segment your keywords into groupings, another arduous task that used to take marketers ample time and resources.
Groupings include patterns of keywords, such as similar words, phrases, synonyms and subtopics.
This helps your business identify a primary keyword and then the secondary relevant keywords you should include in that piece of content.
Keep in mind your secondary keywords and subtopics might not have the same level of search volume as your primary keyword, however these keywords are likely to be easier to rank for.
How to use the Clusterizator
Keyword Clusterizator has a clear intuitive interface. To start, use the following steps: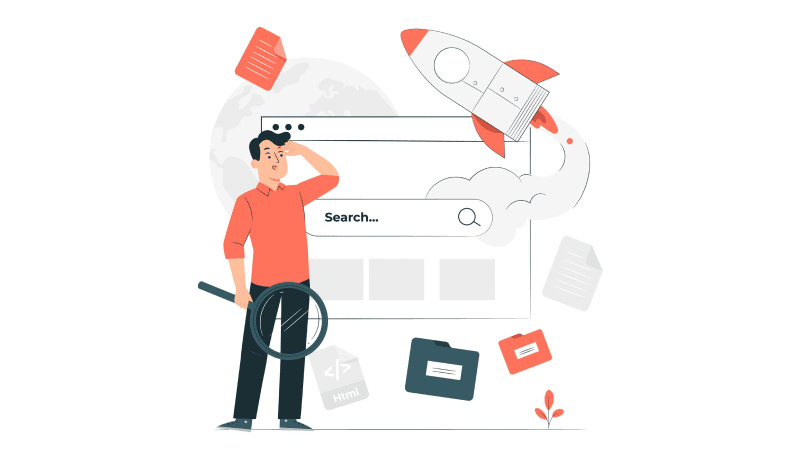 Determine your keyword or keywords of choice.
Enter this keyword into your keyword research tool of choice (such as Ahrefs, Semrush, UberSuggest).
Export the data into one of the following formats: *.txt, *.xls, *.xlsx, *.csv.
Upload your file into the Keyword Clusterizator tool by clicking the "UPLOAD" button.
Once the data is uploaded, click the orange "GROUP NOW" button.
Press the "How does it work?" button to see an example of how to fill in the gaps.
Easily delete, omit, select and specify your required and non-required list of keywords by simply ticking the relevant boxes.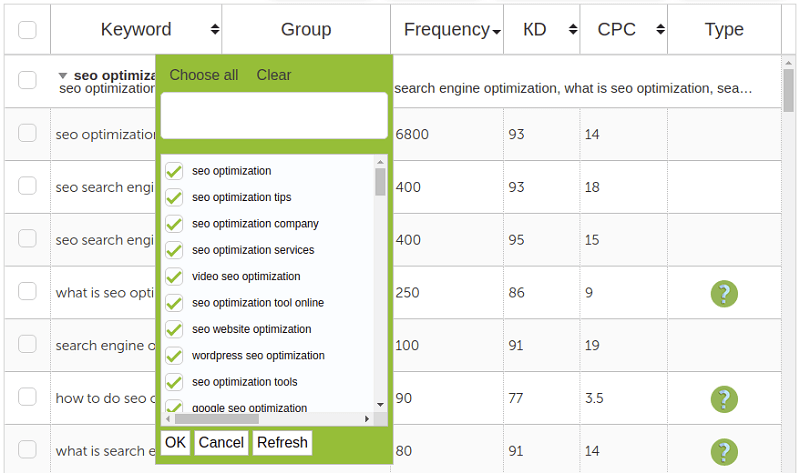 Once your data is grouped, you can narrow down and refine your groupings even further by using the following features:
Exact phrase integration: Consider 2 or more words as a single cluster, e.g. "weight loss"
Exclude: Eliminate unnecessary words. This function supports exact and broad matching by using "!" for Google Ads.
Ignored words list: Ignore listed words to not change the meaning of words, e.g." in, on, at, etc.
Include: List important words only.
File import
Easily copy lists of keywords from other apps and services and paste into the exchange buffer.

Simply import the file from the system of your choice. Unmiss.com Clusterizator supports imported files from different applications, by default:
Semrush
Moz
Serpstat
Ahrefs
Ubersuggest
Google Keyword planner
Clusterizator will automatically ask you which columns are to be matched with keywords, volume and traffic, even when working across different platforms.
How to save your results
Keyword Clusterizator allows you to easily save the final results of keywords as well as the entire project.
If you click SAVE (under the field "keywords") it allows you to save the project for easy access next time. Next time you pick back up, simply press "Upload" and continue working where you left off.
The COPY tool easily copies ticked groups and keywords into the exchange buffer, ready for pasting into any document.
Save highlighted files – exports to Excel.
Save all – downloads all clusterization results into one convenient Excel file.
Keyword Clusterizator saves you time and replaces hours of work, allowing you to focus on other, more important tasks.
Additional advanced features and functionality
You can add up to <40,000 lines of keywords from the exchange buffer.

Automatically deletes duplicates once analyzed.
Autosaves data.
*.Xlsx, *.csv save function.

Exact phrase integration combines words for generating essential composite clusters and phrases that can't be broken down into individual words. For example, product names or inseparable collocations. Separate phrases with commas. For example: iPhone XS, Samsung S8.
Exclude allows you to remove unnecessary words. Wide and Exact match is supported (throughout "!"). Divide words by commas. An exact match – !word1, !word2. Wide range – word1, word2.
Ignored words allow for you to omit words you don't need while clustering. Prepositions are automatically ignored. Leave out redundant words like nouns, verbs, adjectives, etc.
Include specific imperatives will list only essential words. For example, you selected semantics for services that contain redundant words.
Related lists synonyms is another useful feature. Divide words by commas, + button adds a new synonym group.
Select frequency – defined, based on the amount of words the system will clusterize.

High – high-frequency queries – group two words. Useful for dividing smaller groups and essential for PPC Advertising.
Midi – Mid-frequency queries – group three words. Used for content creation by bloggers and divides keywords in order to create grouped keyword lists.
Low – low-frequency queries – group using 4 matches. Useful when searching for specifically specialized keywords.
Micro – micro frequency queries – utilized by high traffic websites. Low frequency semantically compatible – functional for intricate traffic volume.

 GEO specs – Tick the box to select or unselect geo locations.
 Extended clusters for semantics divides and groups non-clustered keywords.
What to do with your keyword clusters next
Now that you have grouped your keyword clusters with Keyword Clusterizator, it's time to put these groupings to use.
These groupings serve as the foundation for your content marketing strategy and will give you guidance for creating, optimizing, and organizing your content.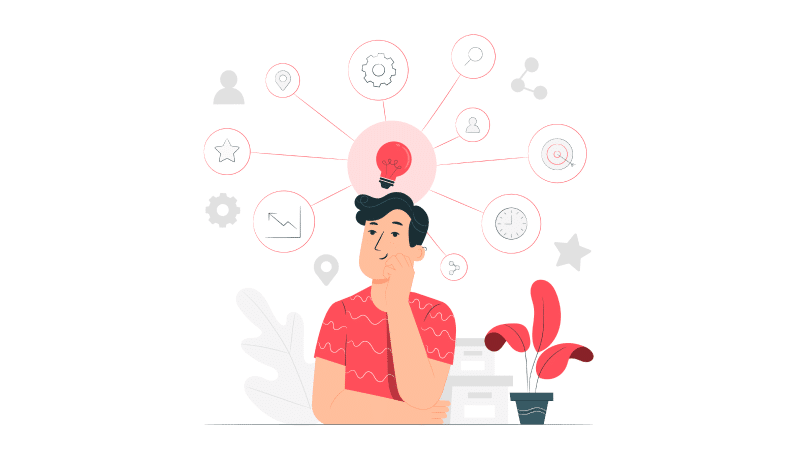 Each cluster can be seen as a core topic you want to tackle. You'll create a pillar page for each of these core topics.
For example, you may have a landing page that focuses on the primary keyword "dog doors", but this page should also include additional keywords for that particular topic cluster (e.g., pet doors, sliding glass pet door, pet door for screen doors, pet door for french doors, pet door replacement flap).
Each of these keywords should be used naturally within the content – never add keywords just for the sake of adding keywords.
Follow on-page SEO best practices when incorporating these keywords throughout your content such as in your h2s and h3s, meta description, and more.
You can also build out blog posts or articles to reinforce your primary keyword clusters and help build your pillar page's authority.
These blog posts or articles will target your secondary keyword or subtopics related to your primary keyword.
You can also internally link to your pillar page to tell Google this page is relevant and the primary source for this information.
This strategy helps improve your pillar page's chances of ranking in the search engine results pages and proves you're a trusted resource.
Over time, this content helps build your business' expertise, authority, and trust with popular search engines, like Google.