How ChatGPT Can Revitalize Your Link-Building Strategy
What drives website traffic?
Andrey Lipattsev's 2015 revelation on SEO's big three—content, backlinks, and RankBrain—made waves.
But fast-forward to today, how relevant are these factors, especially backlinks?
Let's find out!
I'm Anatolii Ulitovskyi.
My sole purpose is to help you get more relevant traffic ASAP.
Let me start growing your business with a FREE analysis.
The Evolving Landscape of SEO
In 2015, Google dropped a game-changer: content, backlinks, and RankBrain were the most significant ranking factors.
SEO strategies were redefined overnight. Fast forward eight years, and Google has rolled out approximately 7,000 updates annually—around 19 daily!
While most updates are minor, core updates can dramatically shake up search results.
Despite these changes, content remains king. If you're on a tight budget, focus your dollars on high-quality content creation.
Algorithms: The Brain Behind Google Search
Google's algorithms have come a long way since RankBrain. Subsequent algorithms like Bert and MUM have had a more significant impact on search outcomes. John Mueller of Google has stated that these algorithms affect websites differently based on their niche.
For instance, health-related content needs trust and authority, while real estate benefits from strong visuals and succinct descriptions.
The Link-Building Debate
Remember when Google first championed backlinking algorithms in 1997? It was an era where PageRank was the talk of the town. Google's strategy of valuing backlinks gave it an edge over competitors like Yahoo and Altavista.
Though the dynamics have changed, backlinks remain essential for higher ranking and traffic, but Gary Illyes from the Google Search team at PubCon shares that backlinks are outside from the top three ranking positions. Big names like Nike and Amazon don't necessarily focus on link building; their brand recognition works for them.
To Build or Not to Build Links
Your need for link-building boils down to your site's authority. If you're new or have moderate authority, backlinks could give your content the push it needs to rank better.
Types of Backlinks That Work
Link-building isn't what it used to be. Google's Penguin update in 2012 was a wake-up call for anyone using Black Hat SEO tactics. The focus has shifted to White Hat SEO methods, where not all links are equal. These are the most effective ways to build high-quality backlinks from new pages:
– Create naturally link-worthy content
– Write guest posts
– Leverage Digital PR
A Case Study: Ahrefs' Backlink Strategy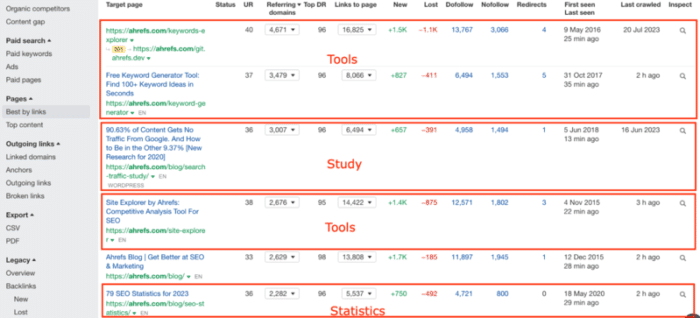 Ahrefs, a popular SEO tool, offers excellent insights into effective link-building. Most of their backlinks come from content that falls under tools, statistics, or studies. This shows that creating valuable resources can naturally attract backlinks.
The Content Saturation Dilemma
Here's a shocking stat: 6 million blog posts are published daily! Considering this flood, focusing solely on blog content may not be enough. That's why diversifying your content to include tools or studies can give you a leg up.
Backlinks have evolved but are far from extinct. Whether you invest time and resources into building them depends on your website's authority and business goals. So, evaluate your needs and adapt your SEO strategy accordingly.
And remember, when it comes to SEO, staying updated is half the battle won.
Elevate Your Link-Building Game with Creative Strategies
How do I keep those backlinks coming? Not to worry, there's more to explore! From simple tools to statistical wonders, let's dive into innovative ways you can attract quality backlinks and keep your website thriving.
Simple Tools: The Underestimated Asset

You don't have to compete with multi-functional giants to make a splash. Small, user-friendly tools can win big, too! Research shows that 87% of users aren't advanced enough to utilize complex tools. That's where simple tools step in.
Finding the Right Tool Ideas
Here's how you can brainstorm:
– Think about tasks you do manually and imagine how they could be automated.
– Identify existing tools that are good but have flaws you can fix.
I've benefited from this approach myself. I designed a keyword clusterizator that slashed my work time from days to minutes. My team is now developing +50 new SEO tools by adding ChatGPT API.
Save Money, Save Time
Before jumping into custom development, consider exploring platforms like Codecanyon.net, where you can purchase ready-made tools. Even if they aren't perfect, you can often update their UX design or add simple features to make them more appealing. The best thing you can do is to add the ChatGPT API for getting better results and accurate data.
Studies and Statistics: The Link-Bait Goldmine
Studies and statistics are link magnets, especially for journalists and bloggers.
How to Produce Engaging Studies
– Outsource the task to skilled authors.
– Update old studies with new data.
– Edit texts on ChatGPT with the following prompt: "Improve readability of my text in a conversational tone."
Both approaches have their merits. For instance, I often reach out to authors who've successfully generated backlinks through their studies.
Statistics That Speak Volumes
People love numbers; especially journalists and bloggers. But remember, your statistic page shouldn't just be "one more page." It needs to be better—improved UX, easier-to-understand data, and more. Sometimes, just converting data into percentages can make your page more link-worthy.
Digital PR: The Outreach Gamechanger
Digital PR is all about securing authoritative backlinks through platforms like Haro (Help A Reporter Out) and via press releases.
Tips for Success with Haro
– Be among the first to respond.
– Prioritize quality over quantity.
– Carefully read the requirements.
– Use tools like ChatGPT to improve your content.
– Provide new and unique insights.
Press Releases: A Structured Approach
Getting featured on platforms like CNN and Business Insider can be a big win. Here's how I've done it:
– Keep the press release between 300-500 words.
– Use bullet points and incorporate expert opinions.
– Focus on trending topics or breaking news.
– Include one medium-quality picture.
– Utilize tools like Cision and Prowly for targeted outreach.
– Edit all texts on ChatGPT with a simple prompt: "Edit my press release for prominent publications like Forbes, Bloomberg, and Business Insider."
From simple tools to well-crafted press releases, the path to successful link-building is diverse and ever-evolving. A mix of creativity, timely actions, and focused outreach can work wonders.
Mastering Guest Posting and Smart Link Building: A New Paradigm
Link building isn't what it used to be, and as with many aspects of SEO, quality trumps quantity. The same applies to guest posting—a tool experts like Neil Patel and Brian Dean wielded skillfully. Here's a deeper look at how to fine-tune your link-building strategy.
Guest Posting: Think Value Over Volume
Gone are the days when guest posts were created solely for backlinks. Today, they should drive meaningful results—traffic, brand recognition, and sales.
ChatGPT cannot generate a great guest post, but this tool can edit your lousy copy to an excellent copy according to the format of your perspectives.
Building Strategic Partnerships
Instead of scattering your efforts, focus on 5-10 high-authority websites with substantial, loyal audiences. Cultivate relationships with editors and offer high-quality content periodically.
Quality, Not Quantity: The New Link-Building Mantra
In the words of Google's John Mueller, the impact of link building on ranking is dwindling. So, what should you do?
– Focus on Quality: A single high-quality backlink often outperforms dozens of low-quality ones.
– White Hat SEO: Stick to reputable practices for link insertion. Methods include:
Skyscraper Technique: Creating a significantly better piece of content than what's currently ranking and asking for a link.
Broken Link Building: Finding broken links on a page and suggesting your high-quality resource as a replacement.
Resource Page Link Building: Offering your content as a valuable addition to someone's resource page.
Leverage Technology: ChatGPT to The Rescue
With resources like ChatGPT, it's easier than ever to offer editors and webmasters a backlink and an entire edited piece. This provides them with immediate value, making it more likely for them to accept your proposition.
Elevating Your Outreach
– Warm Connections: Before sending your pitch, engage with the webmaster or editor on social media by offering valuable comments or insights.
– Network Through Media: Extend invitations to editors or website owners to feature them on your podcast or live streams, creating a win-win situation.
– Personalize: When sending out your pitches, compliment without flattery. Authenticity will help you stand out in a crowded inbox.
Final Thoughts
Don't spread yourself too thin by trying to master all link-building techniques simultaneously. Start by being the best at one, and then diversify. As the saying goes, "Jack of all trades, master of none," is more applicable than ever in the SEO world.
In summary, focus on quality over quantity, cultivate meaningful relationships, and strategically use technology for more brilliant link-building.