167. Integrating SEO Into Agile B2B Strategies With Andrea Paternostro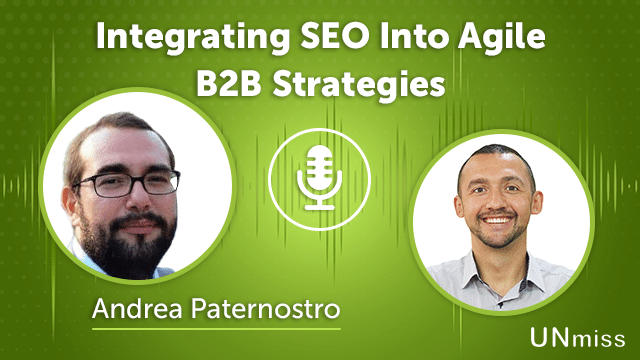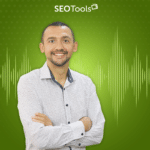 The digital marketing space has a lot of competition.
Therefore, the owners of agencies and digital marketing firms want to make sure they are not left on the sidelines while their competitors do all the work.
That is why they need to create integrative strategies which combine search engine optimization with social media and other traditional marketing efforts.
The new era of digital transformation has changed the way a company goes about business.
Mass adoption of the Internet and big data analytics course brings about a host of opportunities, but also some challenges.
Therefore, organizations have to formulate innovative strategies for nurturing their digital presence and integrating SEO into their business strategies.
We should not think in terms of one domain or keyword as an entire product, but instead think more in terms of applications that can be integrated into a single strategy to augment website performance and drive conversions for specific goods or services.
We should also remember our core value proposition and consider how we are going to build long-term relationships with customers so that they can choose us over other potential vendors with their loyal followers.
Search engine optimization (SEO) is one of the core skills that every small business owner needs to master in order to expand its brand and generate more leads.
Online marketers are learning that technology is getting faster than ever before and the ability to optimize website-related content, marketing campaigns and other promotional activities has increased dramatically since the inception of SEO.
SEO is a key skill for online marketers because it allows them to find the best keywords for their products or services, which can increase their search results and thus lead to more sales.
So what does this mean for B2B marketers?
Not only can they now fulfill all their target markets by optimizing websites in a way that specifically fits their strategies, but also have access to much more targeted traffic with higher conversion rates.
Watch or listen to the entire episode to know a lot more.
Learn more about Andrea Paternostro on the following resources:
Website: https://andreapaternostro.com/
Linkedin: https://www.linkedin.com/in/andreapaternostro
Instagram: https://www.instagram.com/andreapaternostro/
Twitter: https://twitter.com/andreapater/
I'm Anatolii Ulitovskyi.
My sole purpose is to help you get more relevant traffic ASAP.
Let me start growing your business with a FREE analysis.