Unwrapping E-commerce Secrets with Luke Carthy! (#668)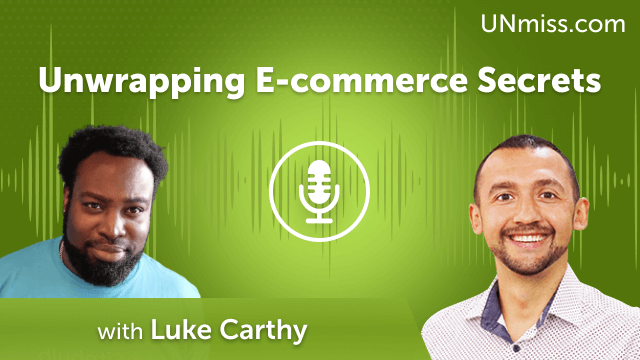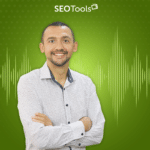 Journey with me…
I met Sarah three years ago.
She was stuck in a tedious 9-5, tired and dreaming of turning her small Etsy store into a full-time venture.
Then came a twist.
The little pottery store exploded into a buzzing e-commerce brand within a year!
Why?
She unlocked the secrets of SEO, Conversion Rate Optimization (CRO), and analytics.
Yes, you read that right.
Simple yet groundbreaking strategies turned a side hustle into a thriving online store.
🚀 Spotlighting Success
Statistics don't lie.
Accurate as of 2022, a staggering 87% of shoppers begin their hunt in digital channels, up from 71% in 2017, according to Salesforce Research.
E-commerce is undoubtedly booming, with SEO pivotal in directing that vast ocean of online shoppers toward specific stores.
But here's where it gets interesting.
A study by Backlinko reveals that the #1 result in Google's organic search results has an average CTR of 31.7%, and is 10x more likely to receive a click compared to a page in the #10 spot.
It's not just about being online; it's about being visible, clicking, and converting those clicks into tangible sales.
This is where today's episode comes into play.
The E-commerce Maestro: Luke Carthy
He's not merely another expert.
Luke has been a maestro, orchestrating the melodies of SEO, CRO, and analytics in e-commerce to create symphonies of success stories.
His insight doesn't just stem from theory.
It's cultivated from years of hands-on experience, constantly evolving with the ever-changing digital landscape, ensuring effective and resilient strategies against the shifting sands of online algorithms and consumer behaviors.
💡 The Catalysts of Conversion: SEO, CRO, Analytics
Why does one store sail smoothly while another sink despite sailing the same digital sea?
The secret isn't just in the sale; it's how you get them there, keep them, and ensure they return.
Your e-commerce journey can be complex, but remember this:
A whopping 88% of online shoppers say detailed product pages drive their purchasing decision, a stat thrown into sharp relief by Salsify in 2020.
It doesn't end there.
Once they've clicked "add to cart," you're only halfway there.
According to a study by the Baymard Institute, nearly 70% of online shopping carts are abandoned before the sale is closed.
Your strategies must encompass the journey from search to sale, and Luke Carthy decodes these facets with finesse.
🎙️ Inside the Episode
Luke brings to the table not just answers, but strategies steeped in success and knowledge sharpened by failures.
From revealing SEO strategies that place you squarely in the spotlight of your target audience, to CRO tweaks that turn browsers into buyers and analytics insights that make your next move clear as daylight, we delve into a realm where every click is a step towards converting and retaining a customer.
You'll hear first-hand tales of triumphs, pitfalls to avoid, and proven strategies that have transformed online stores into e-commerce empires.
🎉 Here's to Your E-commerce Victory!
Imagine turning every click into a potential sale.
Now, envision your e-commerce store surviving and thriving amidst the boundless digital jungle.
Join us in this episode, where, together with Luke, we embark on a journey through the intricacies of SEO, CRO, and analytics, each anecdote a golden nugget, and every strategy a step towards your e-commerce success story.
FAQ: 
How does SEO impact my e-commerce business?
Oh, massively! SEO is like your store's visibility cloak. Imagine having your shop in a bustling digital marketplace where potential customers can effortlessly stroll through their screens. Good SEO places your store right where folks can see it, engaging more traffic, and potentially, boosting those sales numbers.
What is CRO, and why should I care about it?
CRO, or Conversion Rate Optimization, is your secret weapon to transform mere visits into sales! It's all about tweaking your e-commerce site so that visitors are not just browsing but also buying. From your product pages to the checkout process, an effective CRO ensures that each step is as seamless and enticing as possible for your customers.
Is it vital to understand analytics in e-commerce?
Absolutely! Think of analytics as your guide through the e-commerce jungle. It offers valuable insights into your customers' behaviors, showing you what's working on your site and, more importantly, what isn't. By understanding analytics, you get a roadmap directing you where to focus your efforts and how to enhance your customer's journey!
How often should I update my SEO strategy?
SEO isn't a set-it-and-forget-it deal. It's an ongoing process. Search engine algorithms and market trends are ever-changing. Regularly updating your SEO strategy ensures you remain visible to your audience, adapting to their changing habits and the latest algorithm quirks. It's like keeping your store's signboard clean and polished so people can always spot you!
How can I reduce cart abandonment on my site?
The key to conquering cart abandonment lies in a smooth, straightforward checkout process and instilling trust. Ensuring your checkout is as simple and speedy as possible, offering multiple payment options, and reassuring customers with visible security measures can significantly tilt the scale towards successful transactions!
Why is my high-traffic website not converting sales?
Traffic is excellent, but it's the first step. The challenge lies in steering that traffic toward conversions. Numerous factors could hinder this – maybe your product pages lack essential details, or the checkout process is too cumbersome. Analyzing your customer's journey from arrival to checkout is crucial, identifying and rectifying any roadblocks!
Can I handle SEO, CRO, and analytics without an expert?
While it's possible to manage SEO, CRO, and analytics independently, especially with the many available tools, having an expert can be a game-changer. They bring in-depth knowledge, experience, and insights that can navigate through the complexities and nuances of these fields, potentially saving time and accelerating success!
How do I make sure my ecommerce website is user-friendly?
Keeping it simple, straightforward, and intuitive is the golden rule for a user-friendly website. Ensure your products are easy to find and view, descriptions are concise and informative, and the navigation is straightforward. Remember, your goal is to make your customers' journey from browsing to buying as smooth and enjoyable as possible!
What kind of content should I include in my product descriptions?
Engaging, informative, and honest content is vital! Include precise details about the product, its benefits, and how to use it. Beautiful visuals, specifications, pricing, and availability status are crucial. And don't forget to sprinkle in some SEO-friendly keywords to ensure your products are easily findable by your eager customers!
How do I know which SEO keywords to target for my products?
Start with your customer's shoes! What would you type if you were looking for your products? Tools like Google's Keyword Planner or SEMrush can offer insights into popular search terms related to your products. Balancing between high-search volume keywords and niche, specific keywords that your competition might overlook can be a great strategy!
Learn more about Luke Carthy on the following resources:
Website:
https://lukecarthy.com/
Linkedin:
https://www.linkedin.com/in/lukecarthy/
Twitter:
https://twitter.com/MrLukeCarthy
I'm Anatolii Ulitovskyi.
My sole purpose is to help you get more relevant traffic ASAP.
Let me start growing your business with a FREE analysis.