Unlock TikTok's Power: Boost Your Brand with Short Videos! (#685)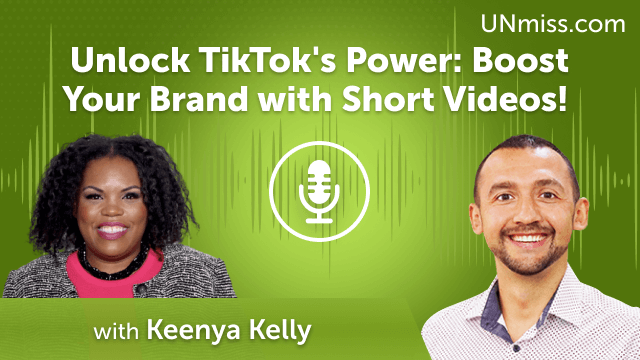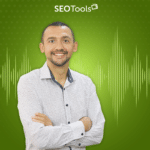 It happened to Lisa.
A mompreneur with her hands full, running a small, sustainable children's clothing line.
After months of stagnant sales and an almost invisible online presence, Lisa tried her hand at TikTok.
A Jolt to The Business
She stitched together a 15-second video.
Kids giggling, tiny hands exploring lush fabrics, with a cheerful melody in the background.
And then… a tidal wave of likes, comments, shares, and, most thrillingly, website visits!
Within a week, Lisa was swamped with orders, and her creations were now seen and adored by a whopping number of TikTok users.
The Magical World of Short Videos
Fascinating, isn't it?
And it's not just Lisa.
Brands globally are turning heads, and, more crucially, turning clicks into conversions with TikTok.
According to a Wallaroo Media study, 90% of all TikTok users access the app daily.
That's millions of potential eyes on your brand, every single day.
Keenya Kelly: The Maven of Short Video Marketing
Here enters Keenya Kelly, an embodiment of vibrant energy and staggering TikTok know-how.
From elucidating the TikTok algorithm to simplifying short video creation, Keenya is your go-to guide for navigating the enigmatic waters of short video marketing.
Tuning into TikTok Trends
Ever noticed?
TikTok isn't just about dance challenges or comedy skits.
It's an eclectic blend of trends, genres, and demographics, making it a lush playground for brands of all kinds.
With 63% of its users below 30, TikTok holds the key to the coveted younger demographic, a stat from Statista tells us.
Mapping a Strategic Play
However, plunging in without a plan?
That's like setting sail without a compass.
Keenya illuminates how to leverage TikTok's algorithm, offering rich insights and actionable strategies to chart a clear, coherent, and, most importantly, convertible short video marketing path.
Navigating Through Challenges
Short videos, yet no shortage of challenges, right?
Diving into the nitty-gritty, Keenya shares her take on circumventing hurdles, refining your message, and ensuring that your short videos aren't just seen but truly resonate and ignite action among viewers.
Unlocking the TikTok Treasure
But how to uncover the golden nuggets amidst the bustling TikTok traffic?
Keenya decodes the secret to crafting videos that don't just blend in but beam brightly, turning passive scrollers into active shoppers.
Wielding the Right Tools
Getting creative with resources?
Keenya unfolds her toolkit, revealing how to craft compelling short videos without breaking the bank or losing your mind in the complex corridors of video editing.
Your Brand's Turn to Shine on TikTok
So, if you're visualizing a future where your brand gleams vividly on the TikTok horizon, this episode is your treasure map.
Let's dive deep, unfurl those sails, and set a course toward a future where your brand doesn't just survive but triumphantly thrives in the bustling world of TikTok and short video marketing.
Embark on this journey with Keenya Kelly and me, crafting a TikTok strategy that's not just seen but sincerely celebrated! Let's navigate, create, and conquer together! 🚀🎉📸
FAQ:
Curious about how to start with TikTok marketing for your brand?
Kicking off is all about understanding your brand voice and identifying content that aligns with your products or services. Dive into trends, create original content, and most importantly, be authentic and have fun!
Wondering about the age demographic on TikTok and if it suits your brand?
Absolutely, it's vital to know that while TikTok is widely prevalent among Gen Z, a variety of age demographics actively explore and engage on the platform. There's room for every brand to find its niche and audience.
How often do you post on TikTok to keep your audience engaged?
A consistent posting schedule is key! Most successful creators recommend posting at least once a day. However, quality always trumps quantity, so ensuring your content is engaging and on-brand is vital.
Struggling with creating catchy and engaging short videos?
Remember, simplicity is the essence of TikTok. Stick to clear, concise, and fun content. Leverage trending songs and participate in prevalent challenges to amplify your reach and engagement.
Are you puzzled about leveraging TikTok trends for your marketing strategy?
Jumping on trends means being alert and quick! Utilize TikTok's 'Discover' page to stay updated on trending hashtags and sounds, and find a creative way to weave them into your brand narrative.
Can you measure your brand's impact and ROI on TikTok?
Absolutely! TikTok offers a range of analytics for business accounts, providing insights into follower growth, content performance, and audience engagement, which are crucial for evaluating your marketing impact and ROI.
How do you drive traffic from TikTok to your website or e-store?
Engage viewers with compelling CTAs in your videos and bio, and utilize TikTok's shopping features to showcase your products. A well-integrated link in the bio or TikTok Shopping can convert viewers into customers.
Struggling with content ideas for your brand on TikTok?
Dive into your audience's interests, pain points, and desires. Craft content that solves, informs, entertains, or inspires. Mixing up your content types—like behind-the-scenes, user-generated content, and educational clips—can keep things fresh and engaging.
Considering collaborations on TikTok to amplify your reach?
Collaboration can be a golden ticket! Identify creators or brands that align with your ethos and propose mutually beneficial collaborative ideas that enhance visibility and offer fresh content to both parties' audiences.
Worried about not being able to create high-quality video content?
Fret not! TikTok thrives on relatable, honest, and raw content. While quality is essential, your authenticity and message are key. Utilize good lighting clear audio, and stay true to your brand to make your videos shine.
Learn more about Keenya Kelly on the following resources:
Website:
https://keenyakelly.com/
Linkedin:
https://www.linkedin.com/in/keenyakelly/
Facebook:
https://www.facebook.com/keenyakelly
Instagram:
https://www.instagram.com/keenyakelly/
I'm Anatolii Ulitovskyi.
My sole purpose is to help you get more relevant traffic ASAP.
Let me start growing your business with a FREE analysis.