Unleashing Curiosity, Personal Development, and Podcasting Success with Joe Pardavila (#616)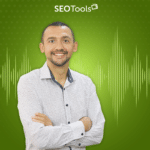 Looking to succeed in the podcasting space?
Desire to harness your curiosity for personal development?
Struggling to communicate effectively?
Expert Joe Pardavila is here to guide you. In this episode, we'll navigate through the landscape of podcasting, harness the power of curiosity, and leverage effective communication skills for personal and professional development.
Personalized Questions:
Joe, could you share your journey into podcasting and how it has shaped your career?
How has curiosity been a driving force in your personal and professional development?
What are some effective communication strategies you've utilized in your podcasting journey?
Can you share some success stories where curiosity and effective communication have driven podcasting success?
How important is personal development in the realm of podcasting and communication, and how can one embark on this journey?
How can budding podcasters harness their curiosity to create engaging content?
What future trends do you foresee in the podcasting industry?
Join us for this insightful session as we explore the intersections of podcasting, communication, curiosity, and personal development with Joe Pardavila. Tune in now!
Learn more about Joe Pardavila following resources:
Linkedin:
https://www.linkedin.com/in/joepardavila/
Twitter:
https://twitter.com/joepardavila
I'm Anatolii Ulitovskyi.
My sole purpose is to help you get more relevant traffic ASAP.
Let me start growing your business with a FREE analysis.