49. Multichannel Marketing Approaches With Dale Davies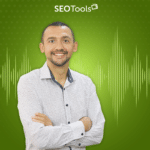 Google changes its algorithms over 4,000 times a year.
Facebook, Twitter, LinkedIn, YouTube, Instagram, TikTok change a lot as well because of improving UX.
If something works well today it doesn't mean it works forever.
That's why a multichannel approach is a must-have.
When one channel stops producing high results you can replace it with other channels.
Dale Davies shares his valuable insights.
He is obsessed with digital marketing.
You can find him at the digital marketing agency, Exposure Ninja.
He leads the digital marketing team sourcing hundreds of inbound leads a month for our sales team.
He spends his time leading a team of brilliant digital marketers.
He loves helping them to grow within their roles and succeed within their agency.
He coaches the marketing team on digital strategy, content creation, and promotion.
As part of the leadership team, he plays an active part in the success of their client's digital marketing campaigns, run in dozens of industries.
He has over five years experience in the digital marketing industry.
He's been a Digital Strategy Manager and the Head of Search Engine Optimisation (SEO) at Exposure Ninja.
He is passionate about helping businesses to use digital marketing to grow.
He loves being a partner in their growth journeys and takes pride in reaching and smashing their goals.
He also consults businesses on how to start or scale their digital marketing.
His focus is on creating actionable digital strategies that earn a high ROI.
He is an active member of the digital marketing community and is open to speaking and podcast engagements.
In his spare time, he learns about growth hacking, customer marketing, sales copywriting, and brand design.
Learn more about Dale Davies on the following resources:
Website: https://exposureninja.com/
LinkedIn: https://www.linkedin.com/in/daledavies-me/
I'm Anatolii Ulitovskyi.
My sole purpose is to help you get more relevant traffic ASAP.
Let me start growing your business with a FREE analysis.