Mastering the Keyword Conundrum: In-depth Research Tips with Ashley Ashbee (#633)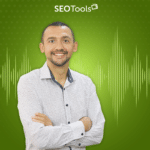 Keywords. SEO. Conversions. Visibility. Meet Ashley Ashbee, your trusted guide in the labyrinth of keyword research, an essential tool for optimal search engine optimization.
In this episode, Ashley will take us on a journey where:
– She shares her journey and expertise in keyword research.
– We unravel the mystery behind identifying the 'right' keywords.
– We discuss actionable strategies to utilize keywords for maximum impact.
– Ashley walks us through real-life instances of successful keyword usage.
Ashley's narrative is an enlightening saga of the significance of keyword research in SEO, and how strategically chosen keywords can propel a business's visibility and conversions. It's not just about identifying the right keywords; it's also about using them effectively.
This podcast episode is a goldmine for digital marketers, content creators, and anyone looking to optimize their online presence through intelligent keyword use. With Ashley as our mentor, we will understand how to sift through the plethora of keywords and choose the ones that will lead us to SEO success.
So, gear up to decipher the keyword conundrum with Ashley Ashbee. Venture into the intricate maze of keyword research and master the skill of effective keyword utilization. Ready? Let's get started!
Learn more about Ashley Ashbee following resources:
Website:
https://www.ashleyashbee.com/
LinkedIn:
https://www.linkedin.com/in/ashleyashbee/
Twitter:
https://twitter.com/ashley_ashbee
I'm Anatolii Ulitovskyi.
My sole purpose is to help you get more relevant traffic ASAP.
Let me start growing your business with a FREE analysis.