Mastering AI-Driven Content Creation with Stephen Jeske (#655)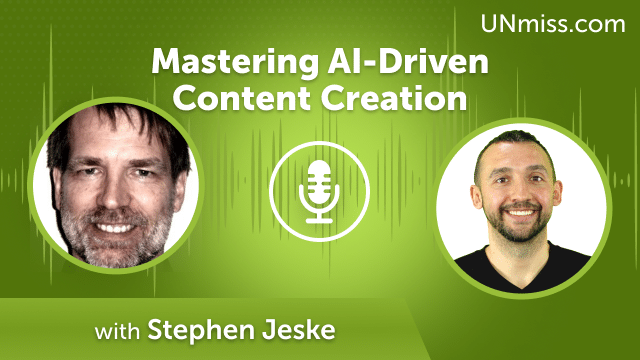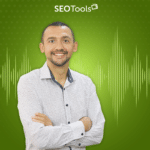 I used to spend 10 hours a week on content creation.
Then, I embraced AI-driven tools.
Now?
I churn out quality content in just half the time.
Curious?
Stephen Jeske is our guest in this episode.
Why AI-Driven Content is the Future
You might think AI is just for robots and sci-fi movies.
You're wrong.
According to McKinsey, companies that have incorporated AI in their business operations see a 50% boost in productivity.
You can't ignore that.
The Must-Have Tools for AI-Driven Content
Struggling with SEO and content ideas?
AI's got you covered.
SEO Tools: AI can analyze millions of data points to offer precise SEO recommendations.
Content Generators: These AI-based tools can create drafts, generate ideas, and edit for tone and style.
These aren't replacements.
They're enablers.
The Real Power of AI: Personalization 
Ever heard about Netflix's recommendation algorithm?
AI, my friend.
Personalized content boosts customer engagement by 20%, according to a study by OneSpot.
It's not just about you.
It's about your audience, too.
Let Data Drive Your Decisions 
You can't manage what you can't measure.
Gartner states that by 2025, 60% of content will be created with the assistance of AI.
Not in 2050.
In just a couple of years.
You've got to be part of that statistic.
When To Consult The Experts
AI is amazing.
But it's not foolproof.
That's why experts like Stephen Jeske are invaluable.
They help refine your AI strategy.
Bring out the best in your content.
The Takeaway
AI-driven content is no longer the future.
It's the present.
And we've got Stephen Jeske in our upcoming episode to explore this exciting realm further.
Are you still manually crafting each piece of content?
Or are you ready to let AI transform your strategy?
Catch the full episode for insights you won't find elsewhere.
Stay ahead.
The world is moving fast.
So should you.
Frequently Asked Questions About AI-Driven Content Creation and Content Strategy
Is AI-Driven Content Creation just about automating text generation?
Nope! It's more than just automated text. AI helps with SEO, personalization, and even predictive analytics to know what your audience will love next.
How does AI impact SEO?
AI analyzes enormous sets of data to offer precise SEO recommendations. So, you're not just shooting in the dark; you're making data-driven decisions.
What kind of content can AI tools generate?
From blog posts to social media captions, the scope is wide. These tools can generate drafts, offer style suggestions, and correct grammar!
Is it expensive to use AI in content strategy?
Not necessarily. Many AI tools have a scalable pricing model, so you can start small and increase your investment as you see the benefits.
Will AI replace human writers?
No way! AI can handle repetitive tasks and data-heavy jobs, but a human writer's creativity and emotional intelligence are irreplaceable.
How does personalization work in AI-driven content?
AI analyzes user behavior and offers content based on personal preferences. Think Netflix recommendations, but for your blog or online store.
Can AI tools understand and match my brand's tone and style?
Absolutely. Modern AI tools can be trained to adopt a specific writing style or tone that resonates with your brand.
Do I need to be tech-savvy to use these tools?
Not at all! Most AI-driven content tools are user-friendly. If you can use a word processor, you can use most of these tools.
What about data privacy?
Good point! Always ensure that your AI tools comply with data protection regulations like GDPR.
When should I consult an expert in AI-Driven Content Strategy?
If you've tried DIY and aren't getting the results you want, or if you're dealing with a large-scale project, that's the time to bring in the experts.
Learn more about Stephen Jeske on the following resources:
Website:
https://www.marketmuse.com
Linkedin:
https://www.linkedin.com/in/stephenjeske/
Twitter:
https://twitter.com/stephenjeske
I'm Anatolii Ulitovskyi.
My sole purpose is to help you get more relevant traffic ASAP.
Let me start growing your business with a FREE analysis.