108. How To Grow On LinkedIn with ​​Richard Parkes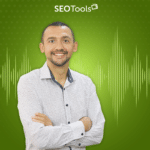 Although most professionals use LinkedIn to network with other professionals, these connections are not always fruitful. Instead of relying on traditional personal marketing tactics of reaching out in person, most people now rely on Linkedin – entrenching their brand and attracting customers.
Companies can use networks like LinkedIn to grow through targeted content marketing, personalizing recommendations and high-quality content that interests its audience. Brands utilizing LinkedIn often try the "guerrilla" strategy by posting content frequently rather than waiting for a campaign to occur.
First you need to find the right balance of organic reach versus paid outreach. Optimize your profiles for keywords or questions that are relevant for your industry or product.
"Do all these articles really change anything? Do I really have time?" Well guess what? Only you know whether it's
Richard Parkes provides advice on what key people in organizations can do to improve their results on LinkedIn:
– optimizing your profile
– engaging with others
– consistency of posting
LinkedIn is a personal and professional network made up of over 800 million professionals, representing the largest professional network on the internet.
Learn more about Richard Parkes on the following resources:
Linkedin: http://linkedin.com/in/wellspotted
I'm Anatolii Ulitovskyi.
My sole purpose is to help you get more relevant traffic ASAP.
Let me start growing your business with a FREE analysis.