199. How To Find Your Marketing Channel With Alex Genadinik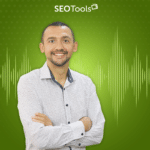 Marketing is huge.
It's not a good idea to cover the whole marketing.
Priorities are keys.
Become the best in one channel and grow with others.
Alex Genadinik shares his valuable insights.
Alex's Music website: https://www.touchedbyasong.com
The PLR courses that he sells to companies: ​​https://www.problemio.com/udemy/white-labeling-or-buying-udemy-courses.html
Done for you course creation service: https://www.problemio.com/udemy/done-for-you-online-course-creation.php
Watch or listen to the entire episode to know a lot more.
Wanna get more traffic? Submit your request on my website – https://unmiss.com/.
Learn more about Alex Genadinik on the following resources:
Website: https://www.problemio.com/
Linkedin: https://www.linkedin.com/in/alexgenadinik/
Instagram: https://www.instagram.com/genadinik/
I'm Anatolii Ulitovskyi.
My sole purpose is to help you get more relevant traffic ASAP.
Let me start growing your business with a FREE analysis.