316. Achieving High Results in SEO with Sandeep Mallya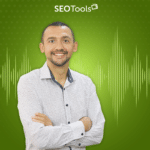 SEO brings more traffic than any other channel.
Most websites can't get this traffic because Google only ranks the best content in the top 10.
How to achieve high-ranking positions?
Sandeep Mallya shares a lot of valuable insights and replies to the following questions:
How to create the right SEO strategy?
What are the common mistakes in SEO?
How to find lucrative keywords?
What webmasters shouldn't do in SEO?
How to find the best link-building campaigns?
Watch or listen to the entire episode to know a lot more.
Let's discuss more in our group – https://www.linkedin.com/groups/12416146/.
Wanna get more traffic? Submit your request on my website – https://unmiss.com/.
https://revive.animalz.co/ – a tool that finds content with losing traffic
https://www.99signals.com/best-books-for-entrepreneurs/ – a list of recommended books
https://designpickle.com/ – design tool
Learn more about Sandeep Mallya on the following resources:
Website:
https://www.99signals.com/
Linkedin:
https://www.linkedin.com/in/sandeeppmallya/
Twitter:
https://twitter.com/sanmallya
I'm Anatolii Ulitovskyi.
My sole purpose is to help you get more relevant traffic ASAP.
Let me start growing your business with a FREE analysis.